Treatments
Deese Pro LED Mask
A treatment that is clinically proven to rejuvenate the skin, Deesse Pro LED Mask can address a range of common skin concerns through the delivery of Light Emitting Diodes (LED's).
A 4-way variation of wavelengths – red light, blue light, green light and near infrared light – is used through a choice of 6 different settings to produce skin that is firmer, stronger, smoother, plumper and brighter.
Skin that has lost its radiant glow and buoyancy is most likely to be affected by the process of ageing. Collagen and elastin are substances that are naturally present within the skin, and as we get older they start to decrease in quantity through an inefficiency of production. This is a completely normal process, but leads to skin that is weak and lacks volume.
Conditions such as lines and wrinkles, dry skin, oily skin, enlarged pores, pigmentation and acne may be open to development, giving the face a tired and unrefined appearance.
Deesse Pro LED Mask is favoured by many celebrities and is described as going 'above and beyond' for reversing the visible signs of damage to the skin.
The 'anti-ageing' and 'express anti-ageing' modes use the red light to stimulate the production of collagen and elastin, for stronger, more agile skin that rejuvenates through enhanced cell regeneration. Blue light is used in the 'purifying' mode, preventing outbreaks of acne through its antibacterial properties.
Restoring an even skin tone and reducing pigmentation and dark spots is possible through the green light used in the 'brightening' mode, with both red and blue light being used in the 'post procedure' mode, to boost circulation and prevent scarring through accelerated healing. The last mode is 'calming' mode, using blue and green light to sooth and calm the skin, reducing irritation and inflammation for skin that is less stressed.
Your expert practitioner will apply the mask and use the right settings to benefit your skin and the conditions that need addressing. The mask can be used in conjunction with other serums and your usual home skin care routine, to give enhanced results in achieving brighter, tighter more youthful looks.
Book a Consultation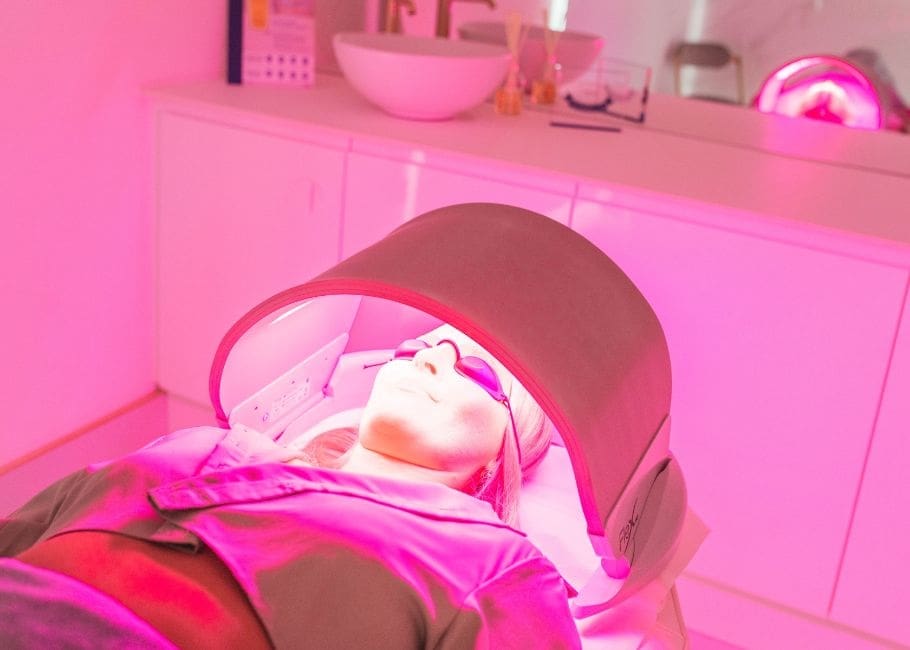 At a glance
Treatment Time
20 Minutes
Treatment Anaesthesia
None
Treatment Frequency
Can Be Used Regularly
Treatment Results
Enhanced Skin Tone
Treatment
Frequently asked questions
Am I suitable for Deesse Pro LED Mask?
This mask is suitable for most skin types and tones. A thorough assessment conducted at your pre-treatment consultation will determine if this treatment will be of benefit to you, considering the conditions that you are affected by.
Is Deesse Pro LED Mask safe?
This treatment is reported to be a very safe procedure when applied through the expert guidance of a trained professional.
Is Deesse Pro LED Mask painful?
This treatment is non-invasive and therefore pain free.
Are there any side effects or risks associated with Deesse Pro LED Mask?
This treatment reports a very low rate of causing any adverse effects to the patient. During your pre-treatment consultation you will be made fully aware of any effects that may be incurred.
What downtime can I expect to experience?
Due to this treatment being safe and non-invasive, the chances of having to endure any downtime is virtually nil. You should be free to go about your day as normal, but with skin that looks vibrant and youthful.
Testimonials
What our patients say...
Always a great experience at Mediface.. From the very friendly and knowledgeable staff through to the high tech equipment. I had a hydrafacial treatment today, very relaxing and looking fresh, my skin feels amazing. Looking forward to returning. Thank you ladies xx
The staff are all so lovely at mediface, they're very accommodating and professional. I'm looking forward to finishing my treatment off and booking for another 🙂
I was made to feel so welcome. Everything was explained very clearly. Top quality first visit for my consultation and patch test.