Dermapen is an advanced microneedling treatment.
Made up of 12 microneedles, the cartridge tip penetrates into the skin, triggering the body's natural healing process to increase collagen production and rejuvenate the skin.
An uneven surface of the skin can be due to the presence of scars and stretch marks, with an uneven tone being caused by the physical appearance of sun damage and pigmentation.
Injury to the skin is likely to result in scarring and stretch marks, when the skin has become damaged and its natural repair has left its mark. When the skin develops patches that are darker in colour, it is primarily the result of exposure to the sun, causing too much melanin in the skin.
Over time this can lead to the skin being affected by sun damage, which can become more noticeable through the process of ageing.
After a mild anaesthesia has been applied and the treatment area has been made sterile, Dermapen's handheld device is manually moved over the concerned area, delivering tiny punctures to the skin. Although this causes several exceptionally tiny tears to the skin, the process works by stimulating a response to repair the trauma.
The body then responds by stimulating the fibroblasts to increase the production of collagen and elastin, thus repairing the wound. To end the treatment, a serum will be applied to the skin helping to soothe and protect the sensitive skin from the sun.
Aimed at improving the appearance of scars, stretch marks, pigmentation and age spots, Dermapen penetrates more of the skin in comparison to its competitors, allowing applications of topical skin treatments to absorb more effectively into the skin.
The vertical delivery of the microneedles enables more rapid healing with less pain involved, for a more consistent method of skin rejuvenation.
Book a Consultation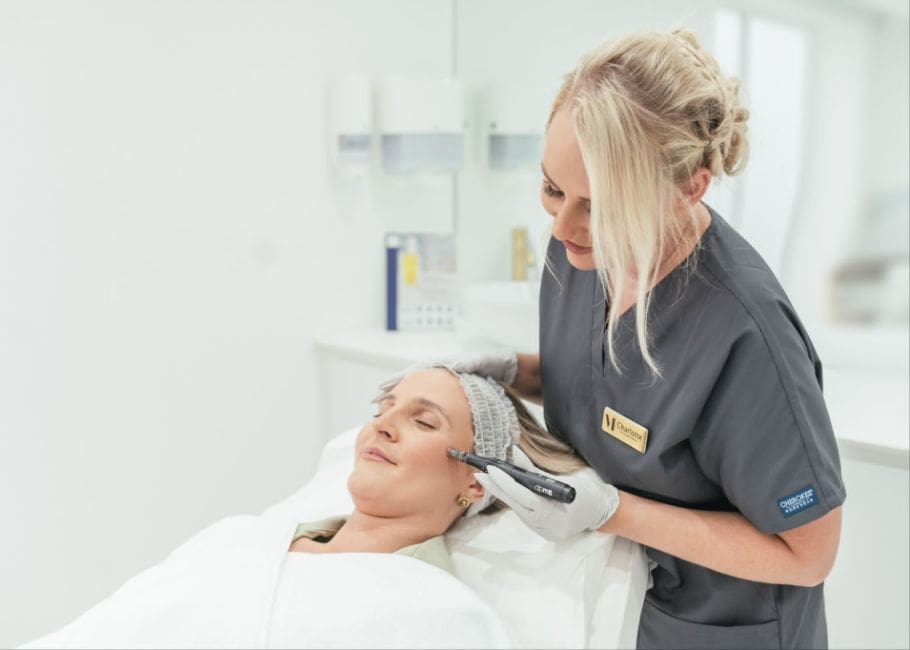 At a glance
Treatment Time
Up To 90 Minutes
Treatment Anaesthesia
None
Treatment Downtime
Minimal
Treatment Results
Rejuvenated Skin
Treatment
Frequently asked questions
Am I suitable for Dermapen?
If you are affected by scars, stretch marks, pitted skin, age spots, lines and wrinkles, pigmentation or an uneven skin tone, Dermapen may be an effective treatment. It may not be suitable for those who have recently had fillers or for people who have Rosacea, Eczema or Psoriasis. You will need to tell your practitioner if you are pregnant or breastfeeding, as this may also affect your suitability.
Is Dermapen safe?
Your expert practitioner at Mediface Aesthetics will ensure the administration of dermapen adheres to stringent protocols, in line with ensuring effective levels of patient safety. The treatment itself has medical approval and recommends that only trained and experienced practitioners can deliver the application.
Is Dermapen painful?
There will be a degree of sensitivity that occurs as a result of undergoing Dermapen. An appropriate method of anaesthesia will be applied prior to the treatment, to enable a more comfortable experience and you will be given careful after advice to follow when you get home. Any concerns can be discussed at your pre-treatment consultation.
Are there any side effects or risks associated with dermapen?
Side effects can include redness and swelling at the treatment site. This will also incur some stinging, itching and tautness to the skin, which will settle down within 24 – 48 hours of treatment. Aftercare instructions will be very simple.
What downtime can I expect to experience?
The amount of downtime you will require, will depend largely on you and your body's individual response to healing. You may wish to take a day off work when you undergo this treatment as you may need to use the rest of the day for any heat and sensitivity to settle down to a comfortable level. It is normal for the skin to dry out and become a little flaky, but this is completely normal and shouldn't cause any disruption to further daily activities.
Testimonials
What our patients say...
Always a great experience at Mediface.. From the very friendly and knowledgeable staff through to the high tech equipment. I had a hydrafacial treatment today, very relaxing and looking fresh, my skin feels amazing. Looking forward to returning. Thank you ladies xx
I was made to feel so welcome. Everything was explained very clearly. Top quality first visit for my consultation and patch test.
The staff are all so lovely at mediface, they're very accommodating and professional. I'm looking forward to finishing my treatment off and booking for another 🙂