Treatments
HARMONY XL PRO™ LASER iPixel Advanced Skin Rejuvenation
The Harmony XL PRO with iPixel is an Erbium YAG 2940 nanometre fractional ablative laser and is one of many handpieces that can be used with the Harmony XL PRO™ system.
It is a fractional ablative laser treatment for resurfacing the skin, improving texture, reducing scarring and collagen remodelling, i-Pixel is also renowned for reducing and slowing down the signs of ageing.
The iPixel handpiece is a fractional and ablative handpiece. This means that instead of treating the entire skin surface, as would a fully ablative laser, it treats the area of skin in a pixelated form, creating tiny perforations in the skin but leaving the surrounding area of skin intact. The fractionated component of this laser allows for better and much faster healing of the area. The tiny perforations stimulate your skins healing response, leading to increased skin cell turnover, resulting in smoother skin, less scarring/texture and will stimulate your natural collagen production. iPixel allows your skin to heal much quicker than a fully ablative laser.
Treatment with iPixel gives great results on people who may suffer from any of the below:
• Sagging skin
• Scarring
• Stretchmarks
• Pitting
• Acne scars
• Skin Resurfacing
• Textured skin
• Wrinkly décolletage
• Sun damage and age spots
We have seen brilliant results with just 1 treatment, but some deeper lines, wrinkles and scarring may require more treatments for the best results. We usually recommend a course of 3, spaced 4 weeks apart to allow your collagen to regenerate efficiently between treatments.
Book a Consultation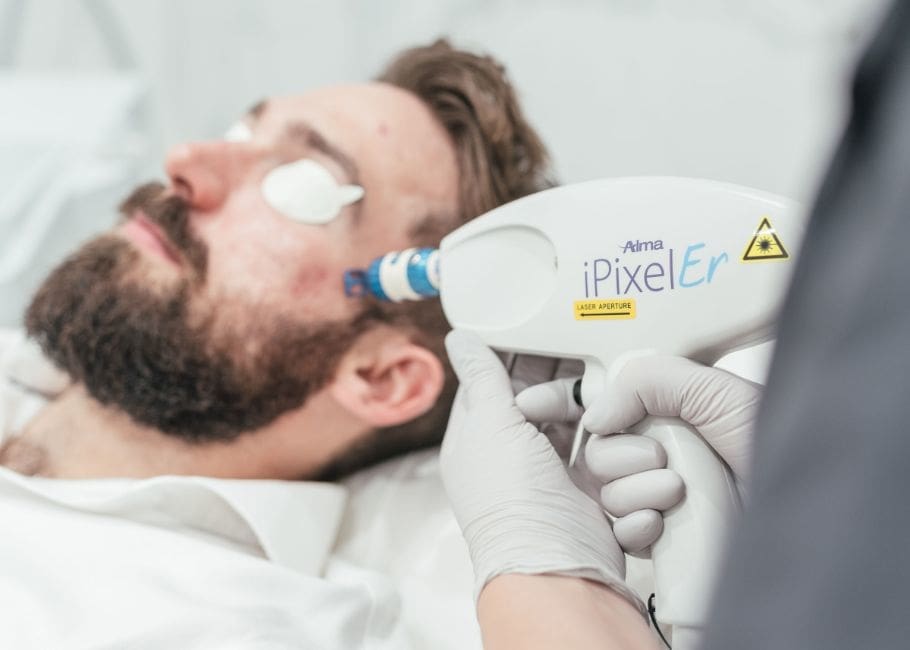 At a glance
Expected Results
Advanced skin rejuvenation
Treatment Time
20-30 minutes
Longevity
Treatment
Frequently asked questions
Am I a suitable candidate for Harmony Laser? 
The team at Mediface Aesthetics will take a detailed look at your concerns and the individual condition of your skin, to determine whether this treatment will benefit you. Harmony XL PRO™ iPixel can be used on most skin types and concerns; however, prior to treatment a consultation will be carried out where you will be asked to give informed consent, and a test patch will be carried out at least 24 hours before your first treatment.
Is Harmony XL Pro™ safe? 
The Harmony XL PRO™ iPixel is clinically proven to be both safe and effective. It is always advisable to have these procedures performed by a skilled and trained medical professional to ensure a safe outcome. The procedure itself uses approved technologies and any concerns can be discussed with Mediface Aesthetics' medically trained team, prior to treatment.
Is Harmony Xl Pro™ painful? 
During Harmony XL PRO™ iPixel laser treatment, you may feel the heat and light of the laser pass over your skin, but the cooling mechanism and topical numbing cream will make this more comfortable for you.
Are there any associated risks or side effects? 
The following side effects should be expected following treatment with Harmony XL PRO™ iPixel and are a normal reaction to this treatment, these may include erythema (redness), oedema (swelling), heat sensation, a feeling of sunburned skin and visible grid-like frosting.
Developing any adverse reactions from undergoing this treatment is very rare, as the treatment is tailored to suit the individual needs of the patient. It is always recommended that the patient disclose any health information or details about their medical history to the team at Mediface, during the pre-treatment consultation, to minimise the risk of developing any complications. 
How much downtime can I expect to experience? 
Immediately following treatment, you can expect significant swelling and redness in the area that can last for up to 7 days post treatment, following your iPixel treatment you will be given very thorough aftercare advice for the following 2 weeks to ensure you get the very best from your treatment and to ensure you care for your skin appropriately.
We advise you have Harmony XL PRO™ iPixel laser treatment when you have time to recover at home for a few days post treatment.
We recommend that you:
Apply SPF 30 or above daily if you will be going outside.
Apply cool packs to soothe your skin and keep your head elevated to reduce swelling.
Drink plenty of fluids to keep your skin hydrated and promote healing.
Do not pick, scrub or use harsh exfoliants on the skin which may have scabbed or formed a crust.
Do keep the skin hydrated with a non-comedogenic moisturiser such as Obagi Hydrate and allow the skin to naturally exfoliate the crusts over the following 7-14 days.
Be patient with your healing process.
Testimonials
What our patients say...
The staff are all so lovely at mediface, they're very accommodating and professional. I'm looking forward to finishing my treatment off and booking for another 🙂
I was made to feel so welcome. Everything was explained very clearly. Top quality first visit for my consultation and patch test.
Always a great experience at Mediface.. From the very friendly and knowledgeable staff through to the high tech equipment. I had a hydrafacial treatment today, very relaxing and looking fresh, my skin feels amazing. Looking forward to returning. Thank you ladies xx