Treatments
Obagi Blue Radiance Peel
Obagi Blue Radiance Peel is a medium depth chemical peel that can unveil a complexion that is younger and healthier looking.
By removing superficial layers of the skin, a resurfacing process can begin, removing dead skin cells and encouraging the regrowth of healthy new ones.
As we get older, the health of our skin can become compromised. The process of ageing along with other environmental conditions can leave the skin vulnerable to developing a number of common skin conditions, including: lines and wrinkles, pigmentation, sun damage and adult acne.
These concerns are often unwelcome characteristics that cause a person to feel they look old and tired, leading to feelings of low self-esteem.
Before the actual peel is applied, the skin will be cleansed in preparation. During the pre-treatment consultation, your experienced practitioner will be able to determine how many coats of the peel will need to be applied.
After around 3 days the skin will begin the process of shedding, which may last for up to a week. This is a natural occurrence and nothing to be concerned about. It indicates the eradication of unhealthy skin, making way for new skin cells to emerge.
Mediface Aesthetics recommend a course of between 1 and 3 treatments, with follow up procedures every 6 to 26 weeks, for optimal results.
Once the shedding process is over, a noticeable difference to your skin can be seen, becoming firmer, clearer and smoother as the next few weeks go by. You can enjoy an appearance that is younger and healthier looking.
Book a Consultation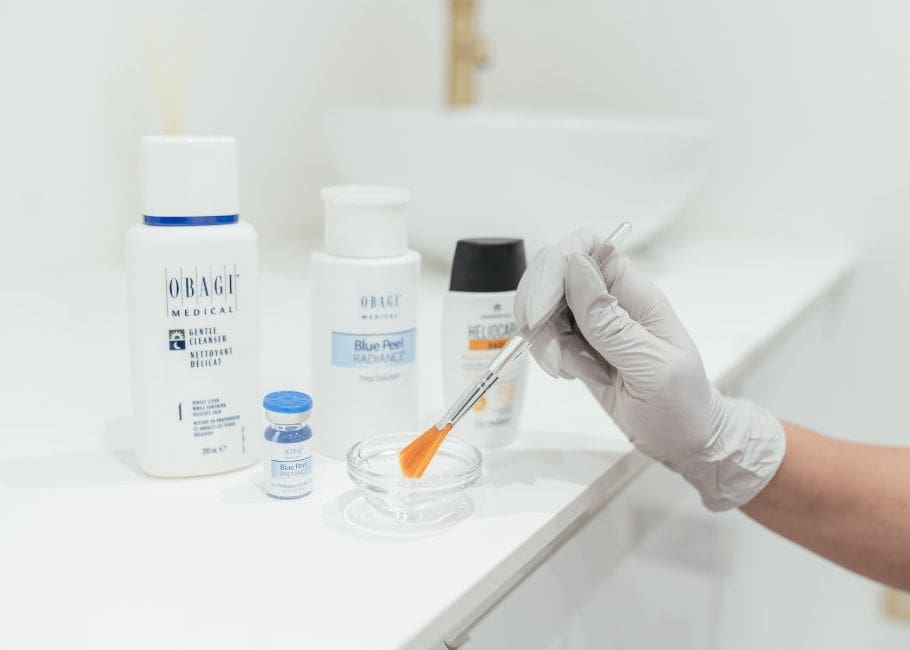 At a glance
Treatment Time
30 - 45 Minutes
Treatment Anaesthesia
None
Treatment Downtime
Up to 2 weeks
Treatment Results
Younger, Healthier Looking Skin
Treatment
Frequently asked questions
Am I suitable for Obagi Blue Radiance Peel?
Almost all skin types are likely to be suitable for this treatment. A full facial assessment will be conducted as part of your pre-treatment consultation, determining if Obagi Blue radiance Peel will be of benefit to you. It can reduce lines and wrinkles, pigmentation, acne and acne scarring.
Is Obagi Blue Radiance Peel safe?
Ensuring your safety can be done through attending the pre-treatment assessment. The Obagi products are considered very safe and the procedure is performed by an experienced and trained professional at Mediface Aesthetics.
Is Obagi Blue Radiance Peel Painful?
The treatment may incur some slight tingling and sensitivity while the peel is developing. The skin may become slightly reddened, with a tight feeling post treatment, which is normal and will settle quickly.
Are there any side effects or risks associated with Obagi Blue Radiance Peel?
During the shedding process, it is completely normal to experience some itching and tingling of the skin. The professionals at Mediface Aesthetics will ensure their availability, should you feel the need to talk about any concerns you may have.
What down time can I expect to experience?
Some patients prefer to take some time off work while shedding is in progress. This can be expected at around 3 days after the treatment and could last for up to 1 week. Your practitioner may advise that you stay out of the sun and refrain from applying make-up until full healing has taken place.
Testimonials
What our patients say...
The staff are all so lovely at mediface, they're very accommodating and professional. I'm looking forward to finishing my treatment off and booking for another 🙂
I was made to feel so welcome. Everything was explained very clearly. Top quality first visit for my consultation and patch test.
Always a great experience at Mediface.. From the very friendly and knowledgeable staff through to the high tech equipment. I had a hydrafacial treatment today, very relaxing and looking fresh, my skin feels amazing. Looking forward to returning. Thank you ladies xx