Treatments
Obagi Medical Dermaplane
Obagi medical dermaplane is a treatment that combines Obagi's innovative products with a dermaplaning procedure.
By removing the top layers of the skin, dermaplaning can eradicate dead skin cells and fine hairs to give you a complexion that is smooth, even and youthfully radiant.
Over time the skin can become dull, dry and aged, with a less efficient rate at which the skin naturally sheds itself.
Being open to environmental conditions and the contributing factors of ageing, the skin requires a regular routine that helps to cleanse and exfoliate, encouraging a healthy complexion through the regeneration of new skin cells. The development of irregularities to the skin, such as acne scarring, wrinkles and sun damage, can all contribute to an appearance that is uneven and tired looking.
A dermaplane facial aims to deliver a safe and effective method of resurfacing the skin, through deep exfoliation and the removal of the fine hairs on the face, also known as 'peach fuzz'.
Obagi uses a combination of enriching ingredients, to nourish the skin and improve the visible signs that ageing and other conditions have produced. The facial can be tailored to suit the patients individual needs, using: plant extracts, vitamins, essential oils and collagen and elastin, to feed the skin and improve concerns such as oily skin, dry skin, acne, pigmentation and uneven skin texture.
An expert practitioner at Mediface Aesthetics can compile a bespoke formula, just for you and the conditions you present with. By resurfacing the skin a clear and even complexion can be achieved, producing a smooth, clear and radiant complexion.
Book a Consultation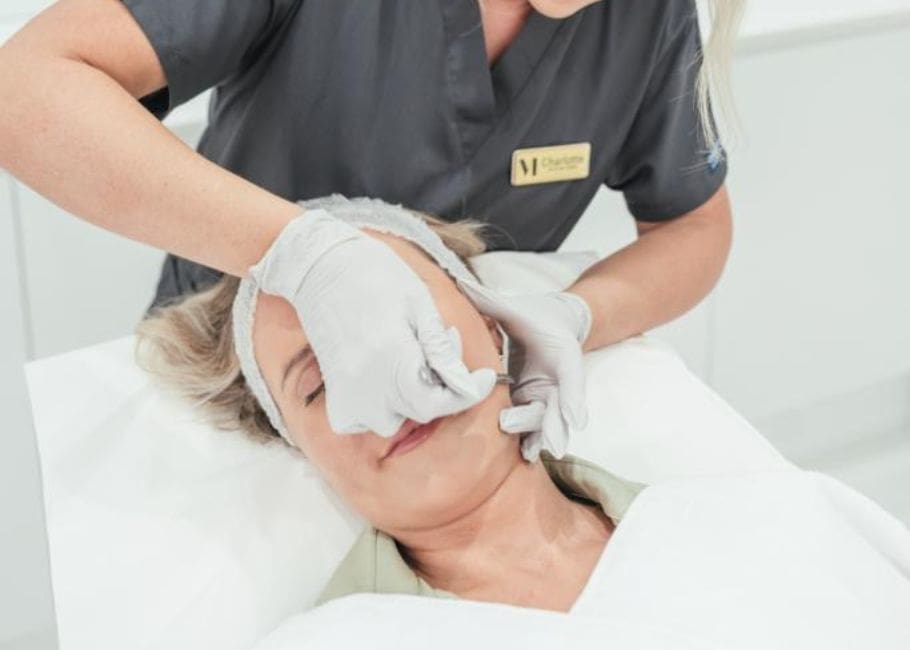 At a glance
Treatment Downtime
Minimal
Treatment Results
Radiant Complexion
Treatment
Frequently asked questions
Am I suitable for Obagi Medical Dermaplane?
The formula of Ingredients used in this treatment are a bespoke combination of Obagi's enriching ingredients. Most skin types are suitable as the ingredients are natural. A full facial assessment will address the overall condition of your skin, and your experienced practitioner at Mediface aesthetics will be best placed to advise if this treatment will be of benefit to you.
Is Obagi Medical Dermaplane safe?
This treatment will be carried out by a trained and skilled practitioner at Mediface Aesthetics, who take patient welfare very seriously. Ensuring the safety and well-being of all patients, Mediface Aesthetics follows comprehensive guidelines and protocols. The procedure itself has medical approval and has seen many successful results throughout the world.
Is Obagi Medical Dermaplane painful?
In general, facials are reported to be very soothing and relaxing. This procedure combines the nourishment of a facial with gentle resurfacing of the skin, and whilst it may be particularly painful, some very slight sensitivity may occur as the skin repairs itself. This will be fairly short-lived and may also require some careful aftercare (confirm accuracy).
Are there any side effects or risks associated with Obagi Medical dermaplane?
As this treatment is tailored to suit you and your individual skin type, the chances of developing any adverse effects are minimal. It is always advisable to ensure you have fully informed your practitioner regarding your medical history and any potential allergies. This procedure will be explained to you in full, including the possibility of any involved risks, during your pre-treatment consultation.
What downtime can I expect to experience?
This treatment produces very little downtime. You may need to follow a considerate aftercare plan, in order to allow the skin to resurface successfully, but this should not cause any disruption to your ability to carry out normal daily activities.
Testimonials
What our patients say...
I was made to feel so welcome. Everything was explained very clearly. Top quality first visit for my consultation and patch test.
The staff are all so lovely at mediface, they're very accommodating and professional. I'm looking forward to finishing my treatment off and booking for another 🙂
Always a great experience at Mediface.. From the very friendly and knowledgeable staff through to the high tech equipment. I had a hydrafacial treatment today, very relaxing and looking fresh, my skin feels amazing. Looking forward to returning. Thank you ladies xx