Treatments
Wrinkle Relaxing Injections
A procedure aimed at reducing the appearance of lines and wrinkles, Wrinkle relaxing Injections contain Botulinum Toxin and are effective when treating both men and women who are affected by the signs of ageing.
A frequently requested treatment, desired outcomes can be fulfilled through an individual treatment plan, put together in your pre-treatment consultation.
The signs of ageing can affect different people in different ways. Although this process generally sees the decrease of collagen and elastin from the skin, the degree to which it causes conditions to develop remains unique to the individual. Losing collagen and elastin results in the skin losing volume and strength, seeing lines and wrinkles appear around the eyes and on the forehead.
Wrinkle relaxing injections, affectionately known as BOTOX, are effective when treating the creases that appear in the upper part of the face. Crow's feet, frown lines and other forehead lines can also be caused by the movement of the facial muscles, and why wrinkle relaxing injections will be successful as opposed to other injectable fillers.
As supporting muscles can lose their tone and contract with age, Botulinum Toxin can help to reverse this effect, supporting slackened skin more effectively to soften the appearance of lines and wrinkles.
As well as targeting lines and wrinkles, this treatment is also effective for improving excessive sweating and teeth grinding.
Not everyone feels happy with the visible signs of ageing, feeling that they have begun to look tired and aged. Undergoing wrinkle relaxing injections at Mediface Aesthetics can help to improve your confidence and restore your once youthful radiance.
Book a Consultation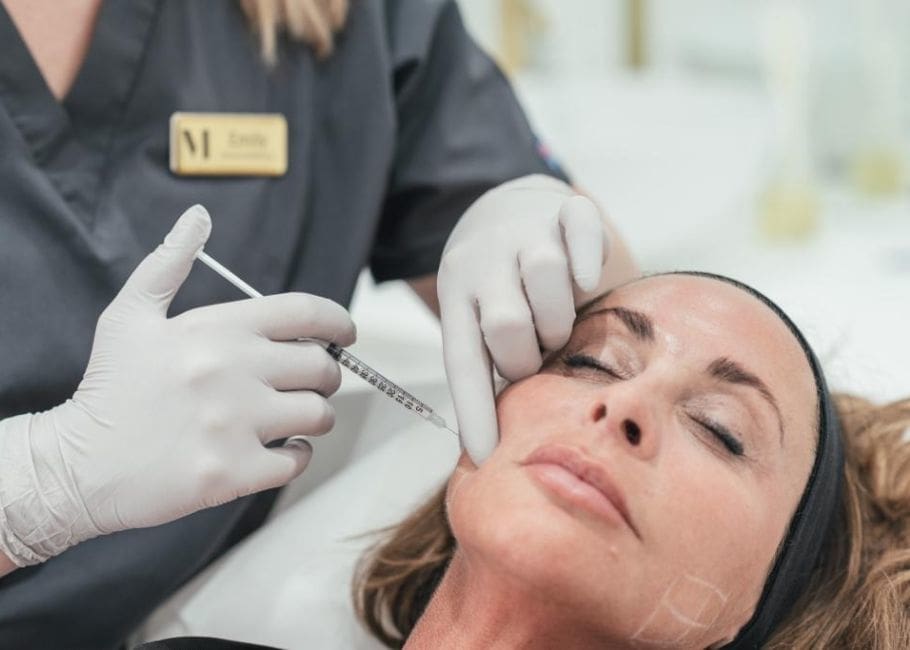 At a glance
Treatment Time
30 Minutes
Treatment Anaesthesia
None
Treatment Downtime
Up To 2 Hours
Treatment Frequency
3 - 4 Months
Treatment Results
Reduced Appearance Of Lines And Wrinkles
Treatment
Frequently asked questions
Am I A Suitable Candidate For Wrinkle Relaxing Injections?
Wrinkle relaxing injections will help to reduce the appearance of lines and wrinkles that appear on the upper part of the face (around the eyes and on the forehead). A full facial assessment will be carried out in a pre-treatment consultation, addressing your individual concerns and expected outcomes. Your experienced practitioner will determine if this treatment is right for you and outline the best course of action.
Are Wrinkle Relaxing Injections Safe?
At Mediface Aesthetics this procedure will always be carried out by an experienced injector, adhering to stringent protocols regarding the welfare of all patients. Botulinum Toxin is a recognised product and has been successfully used for many years, with medical approval for use in this way.
Are Wrinkle Relaxing Injections Painful?
An experienced injector will ensure this procedure is performed with precision, causing as little discomfort to the patient as they can. Some sensitivity can be experienced when undergoing this treatment, however if the patient wishes, a numbing cream can be applied beforehand.
Are There Any Associated Risks Or Side Effects?
Some redness and swelling may be seen at the point of injection, immediately following the procedure. These effects are often reported to ease within a short space of time, however some slight bruising may be visible for a few days. This can easily be concealed through the use of cover-up cosmetics.
How Much Downtime Can I Expect To Experience?
You will be free to carry on with your day immediately after the procedure if you wish to do so, as many patients report no downtime with this treatment. It is some people's preference to wait for any redness to subside before leaving the clinic, but it is not essential.
Testimonials
What our patients say...
Always a great experience at Mediface.. From the very friendly and knowledgeable staff through to the high tech equipment. I had a hydrafacial treatment today, very relaxing and looking fresh, my skin feels amazing. Looking forward to returning. Thank you ladies xx
The staff are all so lovely at mediface, they're very accommodating and professional. I'm looking forward to finishing my treatment off and booking for another 🙂
I was made to feel so welcome. Everything was explained very clearly. Top quality first visit for my consultation and patch test.